GLORIA ZASTKO, REALTORS PARTICIPATES IN "BRAS FOR A CAUSE" A FUNDRAISER SPONSORED BY THE WOMEN'S COUNCIL OF REALTORS.

A good time was had by all at "Bras for a Cause" fundraiser for the fight against breast cancer on Friday evening, September 25, 2015. This fundraiser was sponsored by the Women's Council of Realtors' at the South River Portuguese Club and catered by Ria Mar Restaurant.

There was a total of twenty three men of all shapes and sizes bravely modeling an assortment of "Bras for a Cause".

Gloria Zastko, Realtors, a participating Realtor, designed a bra titled "Stomp Out Cancer". The bra was decorated in a cowboy theme and was awesomely modeled by Mark Schmidt, a Realtor-associate with the firm. The Zastko firm's participation was spearheaded by Maria Reynolds, broker-associate, and the bra was created by Linda Morell, administrative assistant with the firm.

All in all, it was a fun-filled evening, providing a large donation to the American Cancer Society.

Andrew Zastko, Broker-Owner of Gloria Zastko, Realtors, lauds Schmidt for his wonderful presentation, as did all of those in attendance.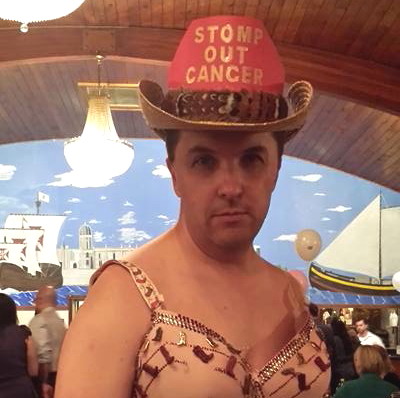 PHOTO OF MARK J. SCHMIDT, BROKER-SALES ASSOCIATE